Emily C. Ivey
DIRECTOR OF NEW STUDENT & FAMILY PROGRAMS
Emily is responsible for overseeing all aspects of the New Student & Family Programs unit while leading and supporting the NSFP team. Most of her work centers around the coordination of New Student Conferences. This includes working with the Office of Admissions, Academic Colleges, presenters, and campus partners. She attended Texas A&M for her undergraduate degree, the University of South Carolina for her master's degree, and is currently in the dissertation phase of her doctoral degree in Educational Administration. Prior to working at A&M Emily worked at Elon University in North Carolina. Emily spends what free time she has running, working out with Camp Gladiator, watching college sports, and practicing her Wheel of Fortune skills.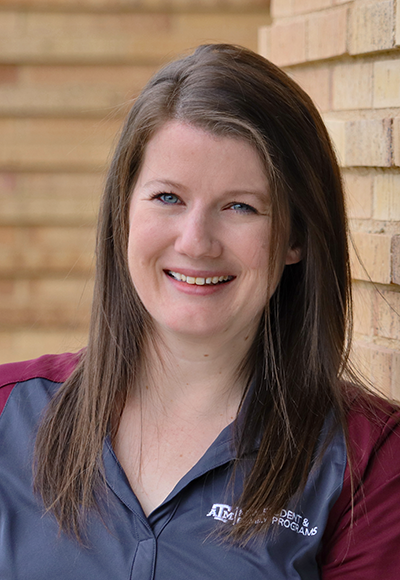 Libby Daggers
STUDENT AFFAIRS COORDINATOR
Libby is responsible for the overall coordination of family programs at Texas A&M. Libby coordinates Family Weekend, manages the family portal, oversees the Parent & Family Advisory Council, and plans the family portions of the New Student Conference, including the NSCs En Español program. She has a bachelor's degree in Psychology from the University of Illinois, a master's degree in College Student Personnel Administration from Illinois State University, and is currently enrolled in the Higher Education Administration doctoral program. Libby is the Region 4 Chair for AHEPPP: Family Engagement in Higher Education. In her free time, she enjoys being active, visiting National Parks, and re-watching her favorite TV shows on Netflix.
Mariah Patrick
COMMUNICATIONS SPECIALIST
Responsible for communication and marketing strategies, print and multimedia production, social media management, and website design and maintenance.
Vacant
ASSISTANT COORDINATOR
This position serves as the advisor to the Aggie Parent & Family Ambassadors student organization. Within this role, the help to coordinate aspects of Family Weekend, Parents of the Year, and communications with families.
Vacant
ADMINISTRATIVE COORDINATOR
This position is responsible for providing administrative support and office management for the New Student & Family Programs office. They also assists in facilitating New Student Conferences, supervising the NSFP office student workers, and coordinating the office budget.
Alex Hersperger

ASSOCIATE COORDINATOR
Alex supervises the Aggie Orientation Leader Program, coordinates Howdy Weekend: Aggieland's Week of Welcome, coordinates the required online orientation for all 14,000 new and transfer students, supervises a NUFP Intern, graduate assistant, and one of the Assistant Coordinators. Previously, Alex served as a Coordinator in the Office of Student Involvement at Houston Baptist University. Alex graduated with a BS in Maritime Administration with a minor in Economics from Texas A&M at Galveston and a MEd in Higher Education from University of Houston. In her free time she enjoys playing volleyball, running, and spending time with her family, including her dog Dobby.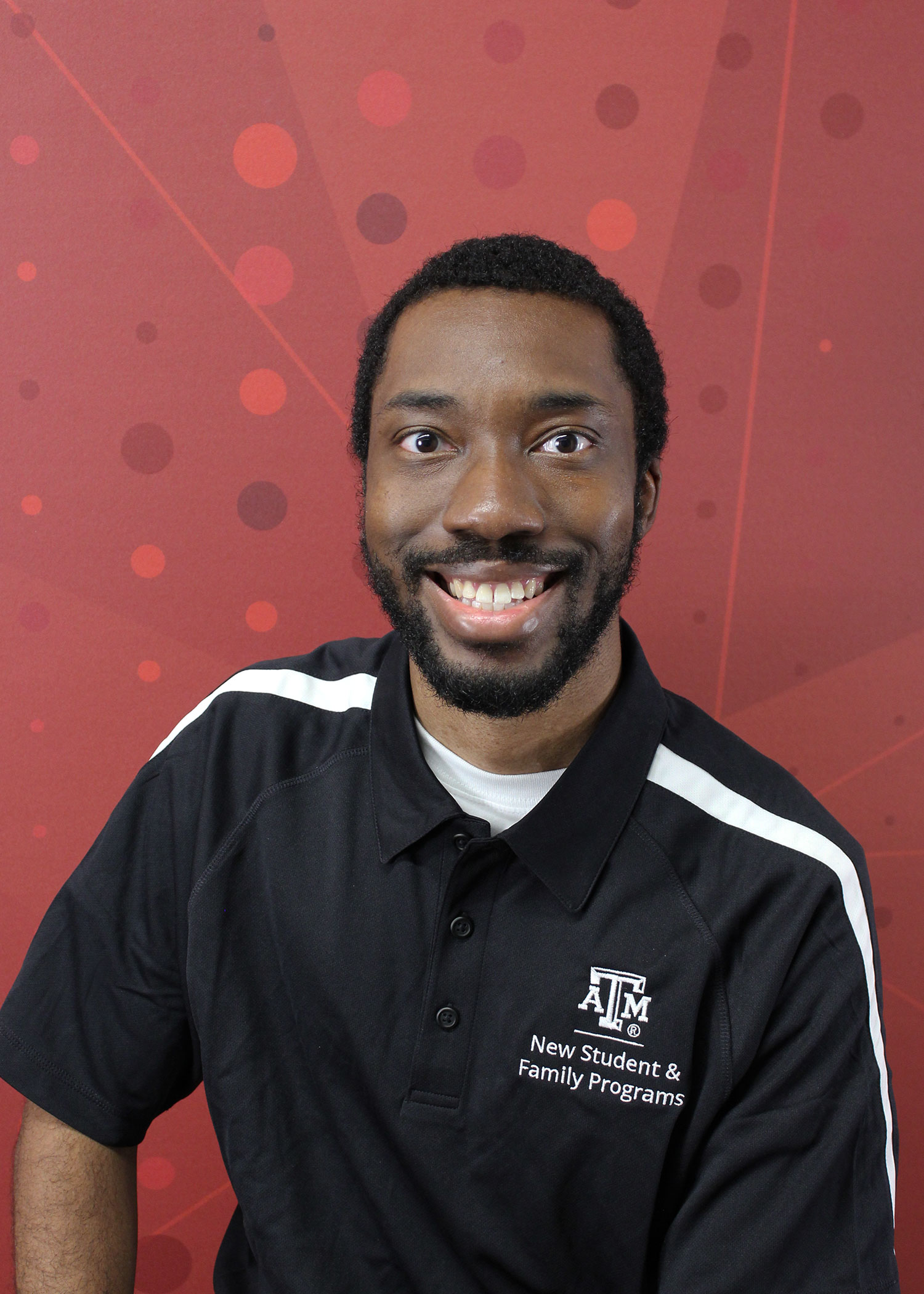 Spikey Howard

ASSISTANT COORDINATOR
Spikey is responsible for the supervision and training of the Aggie Orientation Leaders. He also assists with the development and implementation of New Student Conference programs and Howdy Week programming. Spikey joined New Student & Family Programs in 2021. He holds a bachelor's degree in Mathematics and a master's degree in Higher Education Administration from The University of Alabama, home of the Alabama Crimson Tide. In his free time, Spikey enjoys playing video games, watching sports, listening to music, eating food, and laughing at Family Feud videos.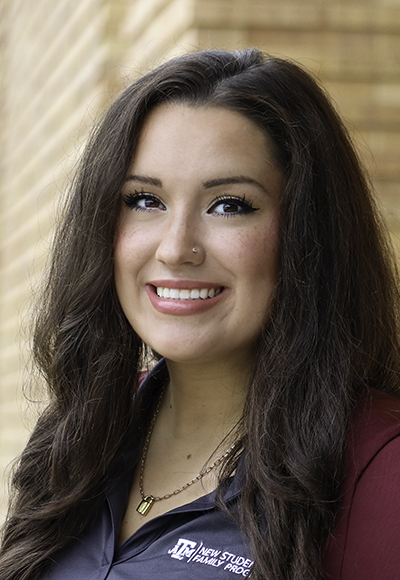 Kayley Safley

GRADUATE ASSISTANT
Kayley is responsible for the development of curriculum aimed at the personal and professional growth of student leaders and she assists with office-wide initiatives and programs. She recently graduated with a bachelor's degree in Communication Studies from The University of Southern Mississippi and is currently pursuing a master's degree in Educational Administration (SAAHE). She is a Masters Student Representative through NODA's Graduate Student Network. Outside of work and class, Kayley likes to sing, shop, travel, and spend time with her friends.
Melissa Anda '21
NSCs EN ESPAÑOL COORDINATOR

Melissa is a Psychology major from Mexico City, Mexico.
Focus: NSC Interpreter Team Coordination, Translation, Spanish-Speaking Family Member Customer Service
Matt Bravo '22
MARKETING INTERN

Matt is a Marketing major from Pasadena, Texas.
Focus: Social Media, Graphic Design, Photography, Videography
David Argudin '21
STUDENT EMPLOYEE
David is a Communication major from Houston, Texas.
Focus: Office Support, Student and Family Customer Service
Spencer Gosmano '22
STUDENT EMPLOYEE
Spencer is an Accounting major from Houston, Texas.
Focus: Office Support, Student and Family Customer Service
Victoria Jimenez '23
STUDENT EMPLOYEE
Victoria is currently a General Studies major, with intent to be Exercise Science, and is from Laredo, Texas.
Focus: Office Support, Student and Family Customer Service
Taylor McDoniel '20
STUDENT EMPLOYEE
Taylor is a Psychology major from Porter, Texas.
Focus: Office Support, Student and Family Customer Service